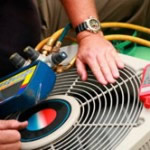 Here in South Florida where the weather is usually hot all year round, air conditioning in your home is very important. Our company offers the best variety in A/C solutions and service in South Florida (residential and commercial). With our excellent customer care we guarantee 100% satisfaction. We use latest, most advanced HVAC equipment and have the tools to handle any task. Highly trained & experienced technicians, can repair or service your AC unit in no time. We are dedicated to providing the highest level of quality on every project we do. We assure you no job is to big or too small for us
Central A/C Replacement South Florida
There may be FPL utility rebates, tax incentives and promotional manufacturer's rebates available for some central systems. These are brand, size and efficiency specific, but Brandon is knowledgeable as to all brands as well as the promotions accompanying the various brands. Warranties are important also. Some have traditional 5 year warranties (generally for parts) but may be extended to ten years with selected brands.
Dryer Vent Cleaning Florida
One of the options offered in conjunction with duct cleaning is the dryer vent from a typical clothes dryer. Lint filters accumulate lint and other dust, but most homeowners don't pay much attention to this when cleaning the main air-conditioning ducts. While not a direct health issue, the dryer vent can consume a lot of energy by not promoting the free flow of vented air to the outside of the home. Dry time is increased as well as heat levels which costs electric dollars and possibly a safety issue. It is recommended that this service be included with a standard duct cleaning for a nominal extra charge.
Air Duct cleaning Miami, Ft. Lauderdale, Palm Beach
Once the air ducts in a home are cleaned, they should stay relatively free of debris for several years. Accumulation over a shorter period indicates inadequate filtration or leaking duct seams and joints. This condition can also let warm humid air mix with the cooled air which will negatively effect comfort and as well as energy usage.